Bitbay – reviews and description of the exchange
BitBay is a Polish cryptocurrency exchange founded in 2014. The company was originally based in Katowice, but unfortunately due to many restrictions and changes in Polish law it moved to Malta and then to Estonia. It is worth mentioning that it is now one of the largest in Europe and is controlled by Financial Intelligence Unit, or Estonian Financial Intelligence Unit. What you should know about it and how to trade?
Registration with BitBay
Registration on BitBay is very fast and easy. All you need to do is provide an email address, check acceptance of the terms and conditions and consent to the processing of personal data and click "Register". After a while we receive a message to the specified address, asking for activation of the account. After clicking on the link, we need to provide login, password and PIN code, which will be helpful when contacting customer service. Although after registration we can already trade on the exchange, but unfortunately an account without verification is very limited.
How does the account verification look like
Verification is not too complicated, and to get to it we have to click at the top of the screen "Verify Account". Until verification is successful we will know at the top that the account is unverified. The process itself we begin by giving personal data, address of residence, ticking the statement that the deposited funds were obtained legally and that we do not occupy any important position. In the last stage, all that remains is to send a scan of an ID card or passport and some document confirming the address of residence. This can include. water bill, electricity bill, etc.
Although an unverified account allows you to deposit and trade cryptocurrencies, without successful verification you can't withdraw the funds collected on the exchange.
How to make transactions on BitBay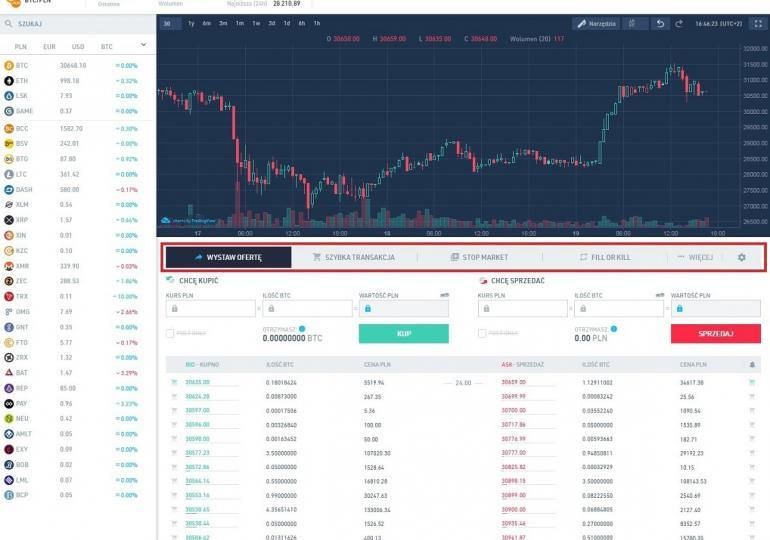 Making transactions on BitBay is very simple and there are several types available:
Place bid – here you enter the amount and rate at which you want to sell or buy cryptocurrency. A transaction will only be processed if there is an offer that meets your criteria,
Quick transaction – we immediately make the transaction at the currently available exchange rate. You specify the amount of cryptocurrency you want to sell quickly or the amount you want to spend on its purchase.
Stop market – the function triggers a sale when the price drops to a preset level or a purchase when the price reaches a preset level,
Fill or kill – this type of offer must be completed in full and immediately or it will be canceled,
IOC – allows you to immediately sell or buy cryptocurrency at a set rate. Similar to the above offer, with the difference that it allows for partial execution.
You can choose a specific currency and cryptocurrency by clicking on its symbol on the left side. We can then also immediately track how exactly the exchange rate has changed over time (from 15 minutes to 31 days). In turn, slightly below we will find another interesting information ie:
Offers to buy (ask) – these are current offers from users who are willing to buy a certain amount of a given cryptocurrency for a given price,
Bids – the opposite situation, i.e. users willing to sell a specific amount of cryptocurrency at a fixed rate.
Available currencies and cryptocurrencies
On the BitBay exchange we can trade using 4 different currencies, namely PLN, EUR, USD and GBP. There is no point in listing all the cryptocurrencies as there are quite a few and new ones appear regularly. Of course all the most popular ones, such as. bitcoin are available from the very beginning.
Other options of the BitBay exchange
Dashboard – account details such as amount of held cryptocurrencies and funds, data, etc. Here you can also see how much your balance would be if you sold all your cryptocurrencies at the current exchange rate,
Exchange – this is where we make all the transactions mentioned earlier,
Offers – here you can find the currently displayed offers,
Wallets – here we can view the cryptocurrencies we own and make deposits and withdrawals,
History – details of all transactions made on BitBay and the balance after a given operation,
Kantor FIAT – BitBay also allows you to simply exchange currencies like in a regular online bureau de change,
Affiliates – you get up to 80% of the commission charged by BitBay on transactions of invited persons. Here you can find various advertising materials and detailed statistics about clicks and registrations,
How to make money on BitBay
In theory making money on cryptocurrency exchanges is very simple. It is enough that we sell cryptocurrencies at a higher price than we bought them, but unfortunately this is not always possible. This is because cryptocurrencies fluctuate very much, also downwards, so it is a very risky investment. Interestingly, cryptocurrencies can be treated as both a short-term and a long-term investment. Everything depends on how long you want to keep it after the purchase. However, we must remember that not only can we not earn, but also lose a lot of money.
Where to get cryptocurrencies to sell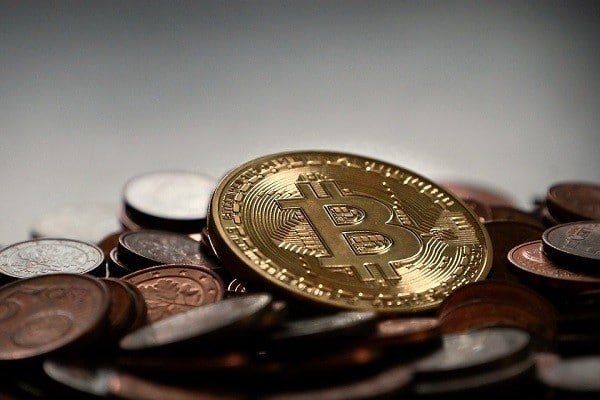 BitBay is an exchange that allows you to buy and then sell cryptocurrencies at a profit (or loss). However, it is worth keeping in mind that buying is not the only way to acquire cryptocurrencies. We can also get them in other ways to cash them in on the exchange.
Fees and commissions
Creating and maintaining an account on the BitBay exchange is completely free, but you have to reckon with the commission on transactions made. Fees vary depending on whether you list or redeem. Another important issue is the turnover in the last 30 days. What commissions can we expect?
Maker (person making the offer) – 0,17% to 0,30%,
Taker (person executing the offer) – 0.25% to 0.43%.
Deposits on the exchange are carried out without additional fees (except for deposits via credit card, where the commission is 2.99%), but for withdrawals we have to pay extra:
domestic bank transfer – 6 PLN,
withdrawal at an ATM – 10 PLN,
SEPA bank transfer – 0,1% EUR (min. 1,5 EUR, max. 150 EUR),
FPS bank transfer – 2 GBP,
to a payment card – 2.99% (min. 10 PLN or 2,5 EUR).
Opinions about BitBay
BitBay is a Polish cryptocurrency exchange and also one of the largest in Europe. It is worth noting that it regularly introduces new cryptocurrencies to the platform and currently supports a really large number of them. The panel is very intuitive, so navigating through it should not cause any problems even for beginners. The exchange also has very good feedback on the Internet, so it is certainly worth keeping in mind when trading cryptocurrencies.