CashIsBack – service opinions and description
CashIsBack is a service that pays for opening advertising e-mails coming to our mailbox. Interestingly, unlike other sites of this type, here the amount we get per click depends on our account level. Participation is of course completely free, so everyone can try it. How it all works and what else you should know about the service?
CashIsBack – registration
Before you can start earning money you have to register with the service. All we need is the basic data, such as name, e-mail address and password, and of course the acceptance of required permissions. After completing the form we can wait for the activation email, which we will receive to the address provided during registration. Although it should come immediately, but if it does not appear, it is worth checking in the folder "spam" because often there are messages of this type. After clicking on the activation link we can log on to the newly opened account, see how the user panel looks like and expect the first advertising emails.
How to make money with CashIsBack
Earning with CashIsBack is very simple. All we have to do is to open the advertising emails that will come to our mailbox, and a certain amount of points will be automatically credited to our balance. After logging into the panel, going to the tab "advertising" we can check what kind of emails were sent to us and their rate. It's worth making sure right away, that the messages from the service don't end up in spam, and if it happens, you should add the addressee to the list of trusted recipients.
How much can we earn?
The CashIsBack service presents an interesting approach to the topic of earning from ads, as the rates depend on the level of the account. This in turn depends on our activity, that is the number of clicks on ads. This is an interesting solution, which aims to mobilize users to greater activity.
Preview of our current level of account, the percentage value of ads and the progress bar in achieving the next level can be checked after logging in to the panel. It is worth noting that compared to other services of this type the rates in CashIsBack are really high. For one click we usually get about 10 cents, but there may be ads worth even 1.5 PLN (at least according to the information on the website). By registering in the service we can earn money relatively quickly, but let's not fool ourselves – it will not be large amounts. However, this is not due to low rates, but generally a small number of emails sent out.
In CashIsBack we have up to 10 account levels, which affect the overall percentage of profits from advertising shipment.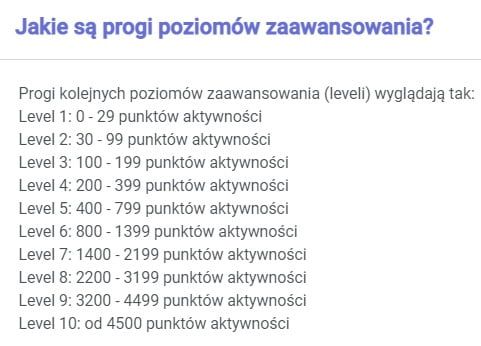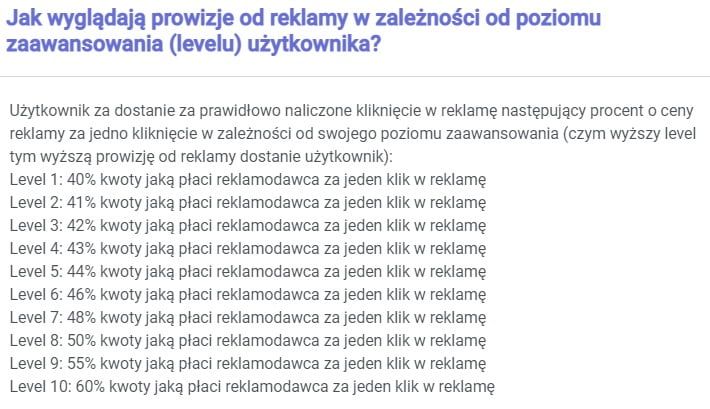 What else is worth knowing about the service?
In the service you will also find an internal ranking, that is a list of users arranged by activity points. It is worth knowing that it does not serve only as a curiosity because there are mailing campaigns which have small limits of clicks. In this situation only the most active users, i.e. those with the highest ranking, can count on the dispatch. It is also a way of rewarding those most engaged.
CashIsBack also offered a bonus program, which unfortunately has been suspended due to the shutdown of the Google Adsense account. The reason for this is probably the fact that placing ads on sites that pay you to click on them is against Google's rules. Therefore, I would not expect this opportunity to return.
CashIsBack advantages:
rates – relatively high compared to other services, even if 1.5 PLN per click will never come,
sending to an e-mail, which does not require logging into the service. Thanks to this we can quickly pass the advertisement even from the phone,
account levels, which affect the value of advertising,
inviting friends in exchange for a decent bonus (for both), although it requires a lot of activity from the person invited.
CashIsBack Affiliate Program
CashIsBack has the mentioned affiliate program, which is an interesting way to significantly increase your earnings. In the simplest terms we get the reward for inviting other people to the program, if they are active enough. Of course we do it with a special referral, and getting referrals is not overly complicated. What's more, both parties – both the inviting and the invited person profit here:
inviting receives 10 PLN when the invited person reaches level 5 of the account,
invitee starts with the 2nd account level.
By properly promoting the program we can build a pretty good additional passive income.
Cashout from CashIsBack
Withdrawal of funds accumulated in CashIsBack is possible only to a bank account, but this is the option most desired by users, so it's enough. The payment can be made already after you have collected 20 PLN on the balance, and the time of its realization is, according to the regulations maximum 5 working days. However, usually the money is transferred within 24 hours from the order.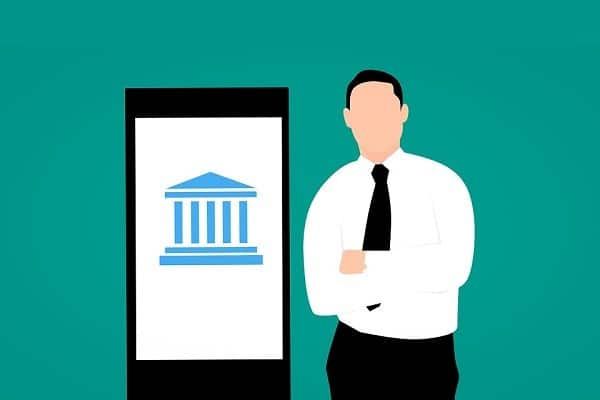 Without a bank account it is hard to imagine normal life nowadays, but it is worth knowing that banks often also give out money for opening an account – at least several hundred PLN. That's why it's not worth sticking to one institution, because only new customers can usually count on better conditions. Of course, banks also offer accounts for the young, so minors shouldn't have any problems with withdrawals.
Proof of payment
Below is the proof of payment from the service directly to your bank account.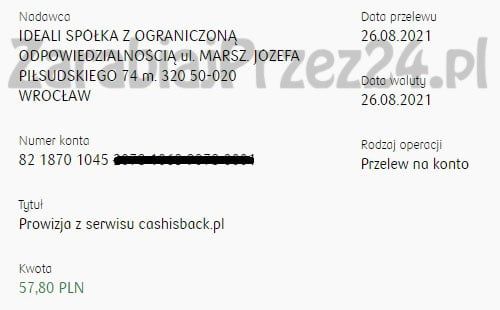 How to earn more on ads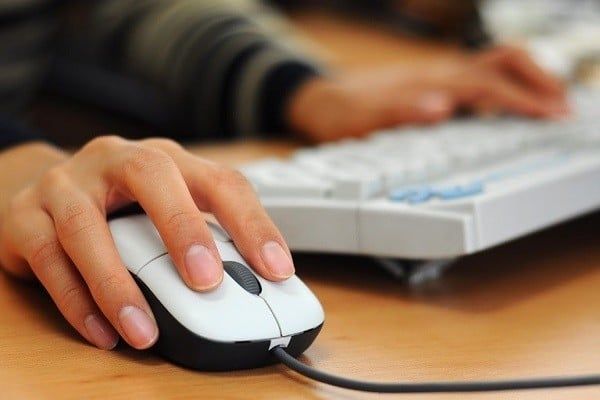 Earning money by clicking on ads is one of the easiest ways to earn extra cash, but CashIsBack is just one of many sites of this type. Therefore, due to the generally low number of advertising e-mails sent, it is worth considering also registering on other sites in order to increase your earnings.