Opinion poll – how to earn in the panel
Opinion poll is a service that belongs to a research company Biostat Sp. z o.o, mystery shoppers have been around for more than 17 years. The panel not only allows you to earn money by completing surveys but also play the role of a mystery shopper. Unfortunately, only people of legal age can create an account on the website. How to earn in the panel and how to increase your income from surveys?
Registration on Badanie Opinii
Normally, before we can start filling in surveys, we need to register. To do this we need to go to and fill in the registration form which can be opened with the button above and then fill in the profile. Thanks to this we can count on better survey matching and therefore lower rejection rate. Once you have created an account and filled in your profile, all you have to do is wait for the first surveys. Additionally, if you are interested in working as a mystery shopper you will also need to provide a phone number.
How to earn in Survey of Opinions
After logging into the panel you should be able to see available and completed surveys, but you can also find them in the "Surveys" tab;. We already know the points salary and the expected time needed to complete them before we start. As you can see, in the panel we can earn money fairly quickly, although these are not very large amounts.

What working as a mystery shopper looks like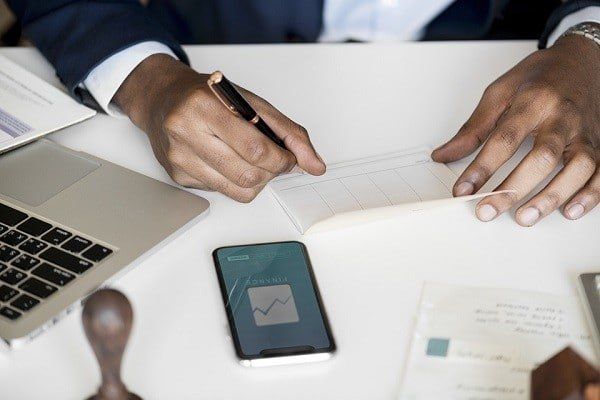 The main source of income in the panel are obviously surveys, for which we receive an appropriate amount of points, but the functionality of the service does not end here. It is also worth noting that the service allows you to impersonate a mystery shopper. A mystery shopper is a person whose main task is to check whether the staff of a given outlet provide customer service in a correct manner and according to accepted standards. It's enough to leave your phone number in "Profile" tab if you're interested in this type of work.
Referral program
Opinion Research also allows you to invite other respondents to the program, for which we receive additional points. In the case of this panel, it is 10% of the amount they receive for completing the survey (without affecting their earnings, of course). In this way we can significantly increase the amount of points earned in the panel and build passive income. Of course, if you get enough active referrals. To invite friends you can use a special reflink, but you can also do it by giving your friend's e-mail address.
Application for your phone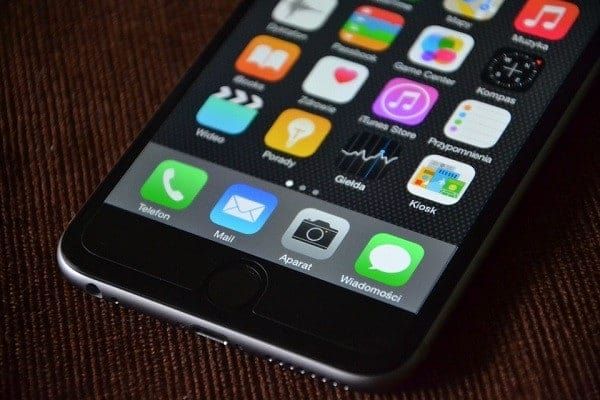 What is interesting is that the panel also has its own mobile application thanks to which we have quick access to our account without the need of permanent logging in. The application also allows you to view your current account balance and notifies you when new surveys are available. This is certainly a great convenience for people who do not sit much at the computer, and always have their phone with them. The application is available for both Android and iOS phones, so we can find it in Google Play or Apple iTunes under the name Biostat Survey. It is worth getting interested in other mobile applications if we want to earn money mainly on the phone, and there are quite a lot of them. Moreover, not all of them are related to filling out surveys.
About surveys in Opinion Research
surveys on Opinion Research panel last at least a few minutes (3-5), and up to several dozen (30-40). The average length of a survey is 10-15 minutes,
we do not have to fill out every survey, so we can choose only the ones that interest us. We can reject a survey because of the topic, time limit or simply because the points reward does not suit us,
information about available surveys comes to us via e-mail (it may end up in spam folder, so we have to browse that folder as well), but it is also available after logging in to the panel,
the panel also adds points as a consolation when the number of responses from people with a given profile is already sufficient and we will not be qualified for a given survey.
Internal panel ranking
It is also worth noting that the opinion poll provides an internal ranking where we can find people who have completed the most surveys in a given quarter. Of course in addition to the sheer number of surveys we will also find information about the points earned by them, so we can get a rough idea of the quarterly earnings we can count on by diligently completing the surveys.
Payout from Opinion Research
Earnings can be paid only to your bank account, after collecting 1000 points (50 PLN), and money should be transferred to your bank account within 15 days after notifying us about your wish to withdraw money. When deciding to withdraw the money we have collected we just need to give our account number and basic data needed to make a transfer.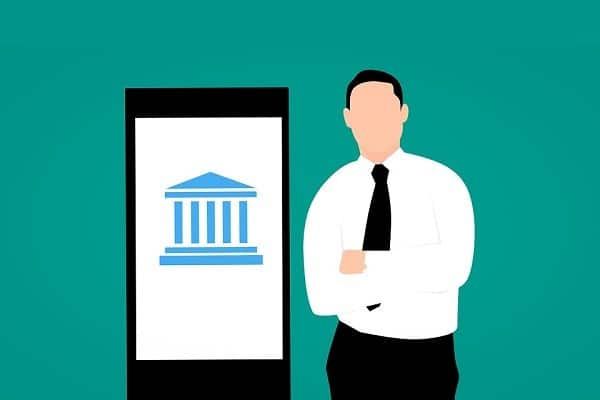 It is worth noticing, that if you do not have a bank account you can quickly set one up through the Internet and additionally earn at least a few hundred zlotys. This is because banks try to attract new customers by offering money for opening an account. Of course, we can also decide to change if we already have an account with another bank.
Proof of payment
Below is the proof of receiving 50 PLN from the panel directly to your bank account.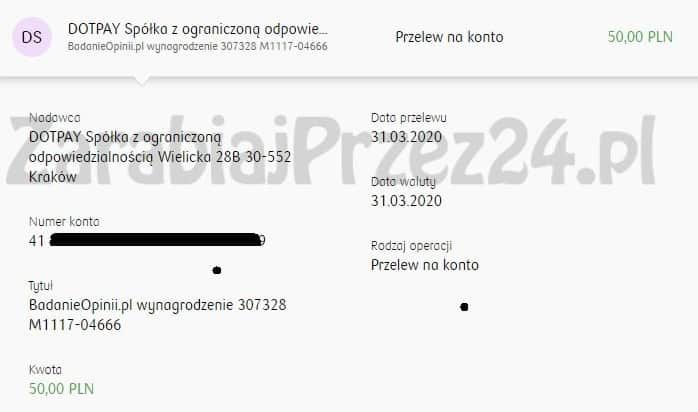 How to earn more by completing surveys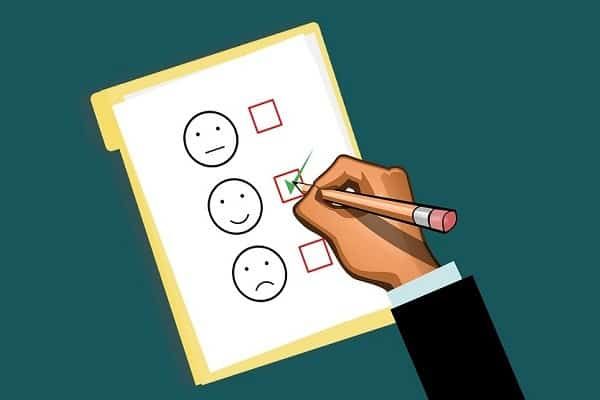 The Opinion Research panel sends a lot of interesting surveys but if we want to earn more we should also register with other services. Surveys are usually quite short, but unfortunately there are not that many of them in one panel to earn larger amounts in one day. If you decide to register in other panels we will have more surveys available and this will translate directly into higher earnings.