AttaPoll – opinions and description of the survey panel
AttaPoll Is a survey panel that has been running and paying out since March 2016, and people who are over 18 years old. It is worth noting here that the panel is a bit different from other services of this type, because here we cannot fill out surveys directly on the website. To earn we need to download a dedicated mobile application, but nowadays it is not the slightest problem. What is more, many people prefer to fill out surveys this way anyway, because of the convenience. What is worth knowing about the panel and how to earn in it?
AttaPoll – how to get started?
Before you start filling out surveys in AttaPoll you need to download the appropriate mobile application and create an account. We can download it by clicking on the button above, and then choosing appropriate store (Google Play or App Store), depending on the operating system we have. After downloading we run the application and log in using our Google account (unfortunately at the moment there is no other way). It is worth noting that the registration requires the age of majority, but sometimes the panel may allow younger users to register. Unfortunately, the regulations do not specify in which situations.
The whole process of creating an account is very fast, so after just a few minutes we can get to earning. After creating an account and logging in to the panel all we have to do is fill out quick profile surveys, for which we also get paid, and wait for the first paid surveys.
AttaPoll application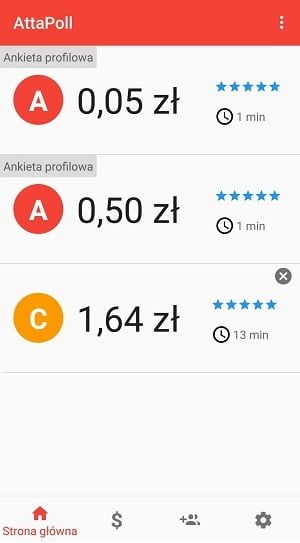 The AttaPoll app is very simple and clear, so navigating through it is no challenge at all. At the very entrance we can see all surveys that we can fill in at the moment. Just click on the chosen one and we will go to its filling.
It is worth noting that in the Internet we can also find many other mobile applications that allow you to earn money. What's more, not all of them are limited to filling out surveys, so it's good to know them.
About surveys in the panel
The surveys on the AttaPoll panel are very diverse, but right from the start we know how much we will get for each survey and how much time we need to complete it. We can then decide which surveys we want to take part in and which we don't. There is no compulsion to take any of them. What's more, in the options we can set both the frequency of surveys and their maximum length. This will prevent us from receiving invitations to surveys that we think are too long. We can also limit the number of surveys if we don't want to complete too many during a week.
Affiliate program
AttaPoll also has an interesting affiliate program which allows you to increase your earnings. Just by using a special reflink (or by giving referral code) you will invite other people to the panel and you will receive additionally 10% of their earnings. In the case of a reflink it is simple, because immediately after registration the person is assigned to our account as a referral. If you choose the option with a referral code, the invited person has to enter it manually. You can do this after logging in by going to settings and then clicking "enter referral code". Of course, the invited people do not lose anything on this, so it is worth taking an interest in the topic. What's more, it is an interesting way to earn passive income, if you know how to get active referrals.
Where to enter the referral code
If you want to invite a friend by using a referral code, you should inform him where he can enter it. You can find the place to enter the code by going to "Settings" and then clicking "Enter referral code". Although the AttaPoll application is very intuitive, so most people should be able to do it, but probably not everyone. It is worth paying attention to the option of inviting with a referral code, because thanks to it your friend can simply download the application from the store, and doesn't have to wait for a link from us.
Payout from AttaPoll
AttaPoll panel unfortunately cannot pay money directly to your bank account, but you can use one of the most popular options which is PayPal. Although we can also pay out on Revolut or to spend on charitable purposes, but these are less popular options. When it comes to payout, it is worth paying attention to very low minimum necessary to complete it (12 PLN Revolut or 15 PLN PayPal) and very fast delivery timeand (usually within minutes).

PayPal is the most popular online wallet, from which we can easily withdraw money to our bank account or use the accumulated funds for direct payments in many online stores.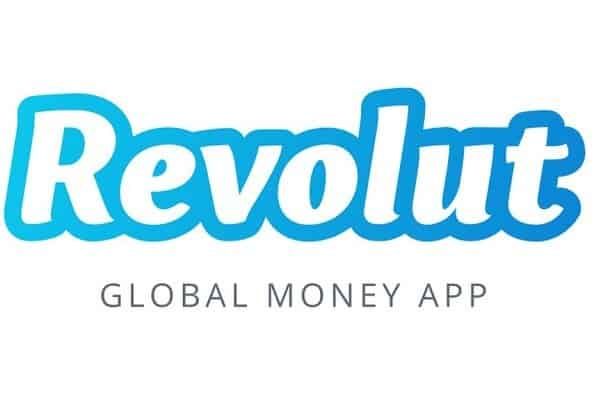 Revolut is a type of account that allows us to make payments in different currencies without currency conversion costs. The process of paying on the internet is virtually the same as with traditional credit or debit cards. All you need to do is give them the number, expiration date and code from such a virtual payment card, so you don't even have to physically carry it with you.
Payout proof
Below is the proof of payment directly to PayPal.

How to earn more money by filling out surveys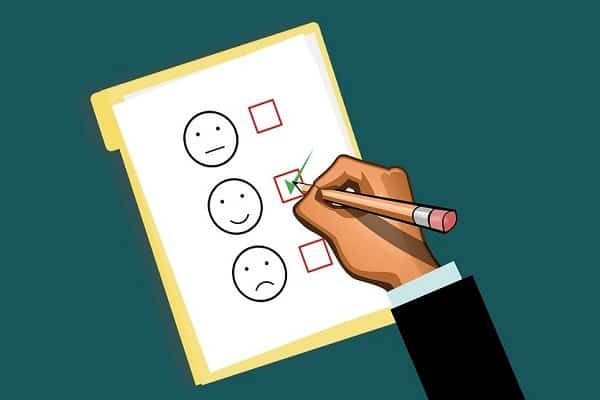 Filling out surveys is one of the easiest ways to earn extra money on the Internet, but unfortunately the number of surveys coming from one panel is not too high. Therefore, if you want to increase earnings it is worth registering in at least a few services of this type such as. ySense. This will increase the number of available surveys and therefore also your earnings.
How else to make money on the internet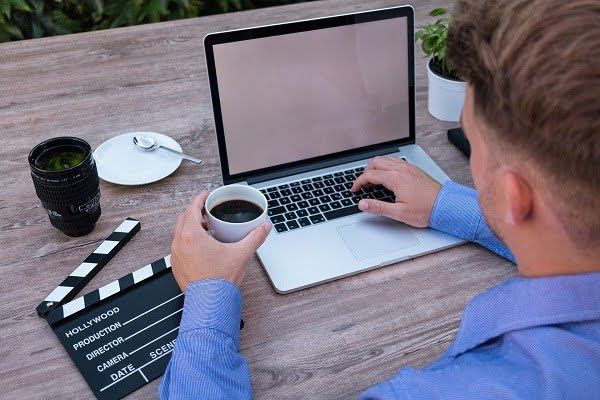 Earning from surveys is one of the easiest and most interesting ways to get money in the web, but it's not the only one. It is worth noting that working from home is possible in many different ways, and many of them require virtually no additional skills. All you need is a little free time and, above all, willingness.